Afrika Tikkun Services is dedicated to promoting sustainable employment for young South Africans and is supported by the German Federal Ministry for Economic Cooperation and Development (BMZ) under the Recover Better Support Fund. In the interview Onyi Nwaneri shows that achieving the 2030 Agenda is a joined endeavour.
Let's get straight to the point: There is hardly any time left to achieve the 2030 Agenda and its Sustainable Development Goals (SDGs). Where do you see the biggest challenges?
Although there is political will to work towards achieving the SDGs, political instability, global as well as local challenges such as the COVID-19 pandemic or natural disasters lead governments and nations to focus on the issue at hand rather than the SDGs as a whole. Especially in Sub-Sahara Africa poverty and inequalities are on the rise, due to high unemployment and inflation, exacerbated by COVID-19 related lockdowns and restrictions.
And where do you see – despite existing challenges – the biggest potential?
Understanding high growth sectors, and positioning the country's skills development, especially those of the future workforce, to these sectors will not only reduce poverty and inequalities but also advance other SDGs. In addition, a social welfare mechanism that is geared towards support but incentivises independence and personal development for everyone will ensure that no one is left behind.
In one of your opinion pieces you said: "We women need to help our sisters reach for the stars". Why do you think women are changemakers for sustainable development?
There is research that shows women in particular benefit from collaboration over competition. Traditionally we have been taught to be competitive. The truth is that raising each other up and channelling the power of collaboration is how we'll change the equation – and have a lot more fun along the way.
You are human rights activist and CEO. Where can – from your perspective – both human rights activists and business leaders learn from each other?
Both parties can be taught from each other's strengths. Business understands how to leverage the skills of people to advance inclusive economic development, whereas human rights activists fight for certain ideals, for which they are prepared to die for. Passion and belief in a cause unites both sides. If there is common ground to collaborate, we will go far in making our countries and the world a better place.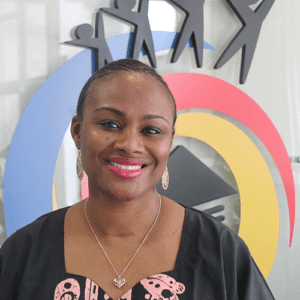 Onyi Nwaneri is a human rights activist and Executive Director of Afrika Tikkun Services.